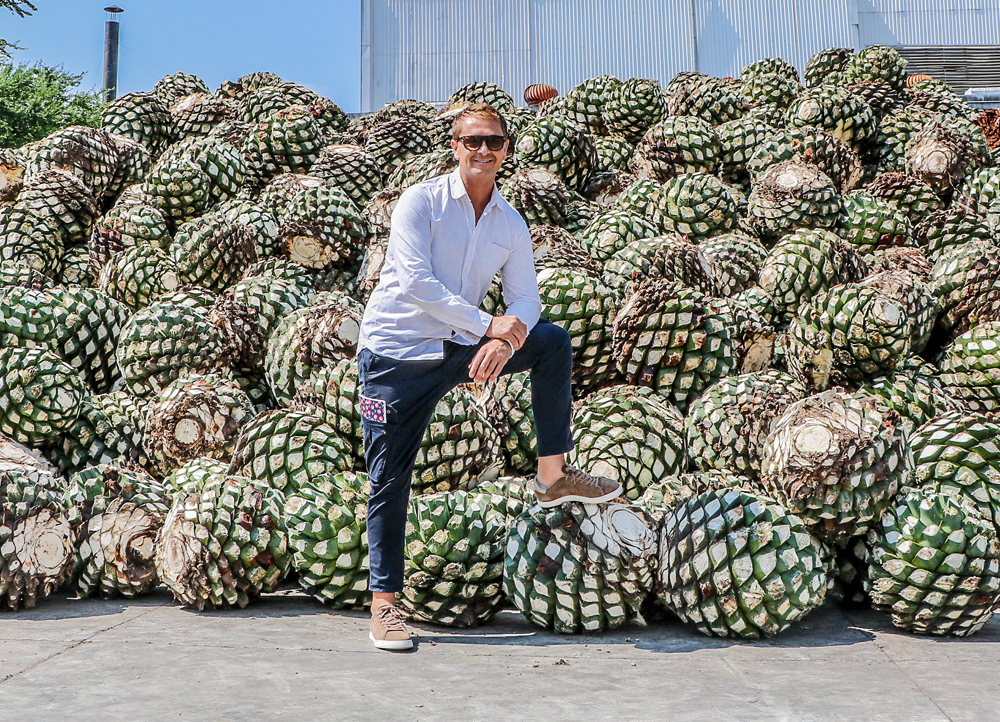 Why is the bar & drinks world after so many years still fascinating for you?
Maybe because I'm still the same person? humble, hardworking, respectful, trying to help and inspire new generations … the genuine and the authentic is valued and paid …..
Trends come and go like waves, but we have seen the gin trend now for some years – what is the next wave ?
I like this question because I love surfing, right now we are in a big wave about the organic, natural, traditional, less sugar, and that the drinks are more pleasant to drink …. also more and more is consumed by the day that at night …
Vermouth, coffee, amaros, beers, wines, along with artisanal drinks such as Tequila and Mezcal will be the next big wave.
We have heard that you are a big Tequila und Mezcal Aficonado – why?
Yes, I love Tequila and Mezcal, they are not only exceptional drinks, they also carry the culture of the Mexican people …
They are mystical, artisanal drinks, where tradition and authenticity are united and that feeling of family is still seen ….
And of course the sensations and complexity that we find in tequila and mezcal are endless.
In the States, Spain and UK tequila has already quite a significance in bars and clubs – why ?
In the United States and Uk yes, in Spain and the rest of the countries more and more, but we need more time for the general public to understand these unique products ….
Now we are lucky to have high quality Tequilas and mezcales and that makes it easier for more and more customers and bartenders to want it at their bars.
The change comes from the desire to learn from the bartenders and the quality of the new tequilas and mezcal.
Tequila and Mezcal is joy and we love to be happy
When will the trend arrive in the rest of Europe?
The rest of Europe are countries of beer tradition, wine, spirits, vodkas, etc … but we can already find Cantinas bars (Mexican food and drinks) and in all cocktail menus you can see 3 or 4 cocktails with Tequila or Mezcal …. then we just need to be patient and first explain the product to bartenders, maitres, sommeliers, etc … and then together we reach the final consumer.
I think that tequila and mezcal is already in Europe.
Locations like Annabel in London and the Ritz Carlton in Berlin have already opened special bars with the focus on tequila and mezcal – Will more locations follow ?
Of course, we have more before these places …..
We have in St. Petersburg, Paris, Milan, Barcelona, Hong Kong, etc … many of these places are already as references within the best bars in the world …
I want to open one, hahahhah
Tequila had over years quite a bad reputation – what if the difference to the premium tequila which is served today ?
We have realized that a unique product like tequila had to be treated as it deserves, so now we have to change the mentality of our customers and let them see that it is a quality product.
Changing the way you drink it, such as new glassware, temperature control, alcohol level control, new cocktails, etc …
It is the way for a customer to value it.
What do you appreciate about Tequila in particular?
There are not many products in the world that at least you have to wait 8 or 10 years to consume it …… there is no product in the world similar to the characteristics of a tequila, that is what attracts me to them.
Something fantastic.
Why do you like especially the premium tequila from Padre Azul ?
I fell in love with Padre Azul since the first time I tried it …
From how you take care of the agave, the jima, the slow and low temperature cooking, the natural fermentation, the distillation using only the heart, control of the quality and roasted barrels, the handmade bottle (about 100 people to make a bottle) … the passion of the whole Padre Azul family, make it a kind, delicate, very elegant liquid with a complexity of flavor and aromatic that makes you levitate when you try it …. that's why I'm in love with Padre Azul…….
Which for the four type do you like best and why ?
It is impossible to choose one of the 4 types of Padre Azul ….
Can you choose between your four children?
It is clear that they have the same base in common, they are brothers ….
Blanco – Fresh, citrus, fruits, wants to party like any young …
Reposado – We continue with vanilla notes, light candies, sweet, creamy, delicious …
Añejo – notes of coffee, caramel, spices, pure elegance, long, perfect marriage of liquid and wood, sit and enjoy for hours.
Crystalline – art, wonderful ….
Then, I choose the 4, hahahahah.
How is premium tequila like Padre Azul produced ?
More or less it is answered in another previous question but if you want me to expand it, you tell me.
How do you prefer to drink a premium tequila like Padre Azul ?
For professional tasting it would be alone and in a flute type cup controlling the temperature.
For personal enjoyment or for clients 2 ways ….
The first with a block of transparent ice in a beautiful old fashioned glass and with some citrus aroma or some fragrance My memories by David Rios.
The second in cocktails incorporating two or three ingredients just to accompany and enhance Padre Azul, never mask the main product that is Padre Azul.
The trend is alcohol in moderation – are there healthy cocktails?
We are in a new era of healthier, less alcoholic cocktails, or with less alcoholic sensation, our clients demand to know the origin of our ingredients, sugar levels, calories etc.
That is why we are fortunate to be able to work and make cocktails with Tequila and mezcal … they are organic products, the residual sugar is imperceptible, there are no added sugar, 100 natural from agave, very low in calories …..
That is, we can say that with Padre Azul Tequila we can possibly make the healthiest coktails in the world.